Why, how, and where to tap into this unsaturated market full of new opportunities.
This article is letter (N) of our "Discover Content" series where we write an article for each letter of the phrase. "Discover Content" uncovers how online content is discovered, circulated, and shared. Find links to more articles in the series below.
Making money and finding love… two universal goals many pursue in hopes of reaching a happy life.
But did you know wealth and meaningful connections can be found online? And it's not something new either. People are building up their wealth and falling in love as we speak. It's been going on for years.
This passive form of wealth building can be accomplished many ways from sponsored blog posts to featuring advertisements on your Youtube videos. For now, we're going to focus on the most popular form of generating income online, affiliate marketing.
The great thing about the internet is you can connect your entire life online if you want. While you're online sharpening your affiliate marketing chops, look no further… stay online and meet some new gals/ guys while you're there.
Who knows, you may even start a dating site of your own to promote your affiliate links (more on that later).
Today, we will give you a thorough sweep of the virtual affiliate marketing and dating landscape. Two unlikely topics, we know, but stick with us.
Why Affiliate Market With Online Dating?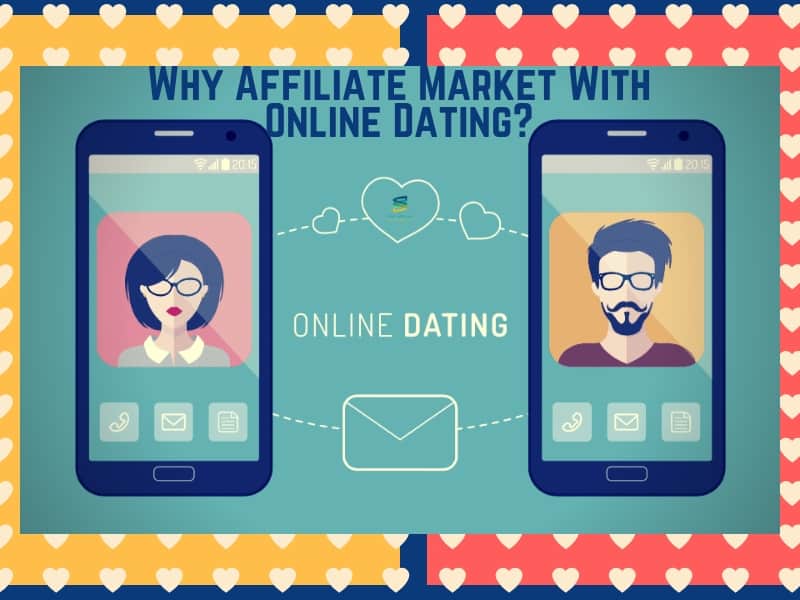 Once an unusual way to meet a mate, online dating has become an everyday and normal way to meet that special someone.
That means in all likelihood, you have used or currently use some kind of online dating app or website.
While you were swiping left and scrolling through different profiles, you may have noticed some links on the application you use.
What are these links? Affiliate marketing links!
There are a lot of benefits to use online dating as a niche channel for your affiliate marketing.
1. High demand and low supply: The online dating niche has a high demand for affiliates to promote their sites.
2. Untapped niche: The market is not already saturated with affiliate marketers. Even the most popular dating sites struggle to get more affiliate marketers.
3. More cost effective: The broad range of demographics using online dating makes it more cost effective than other niches
4. Flexibility: choose where and how you promote your content (banner ads, external links, blog posting, and social media engagement)
5. High Commissions: compared to other products/ services, dating sites offer larger incentives
How Do You Affiliate Market Within The Online Dating Niche?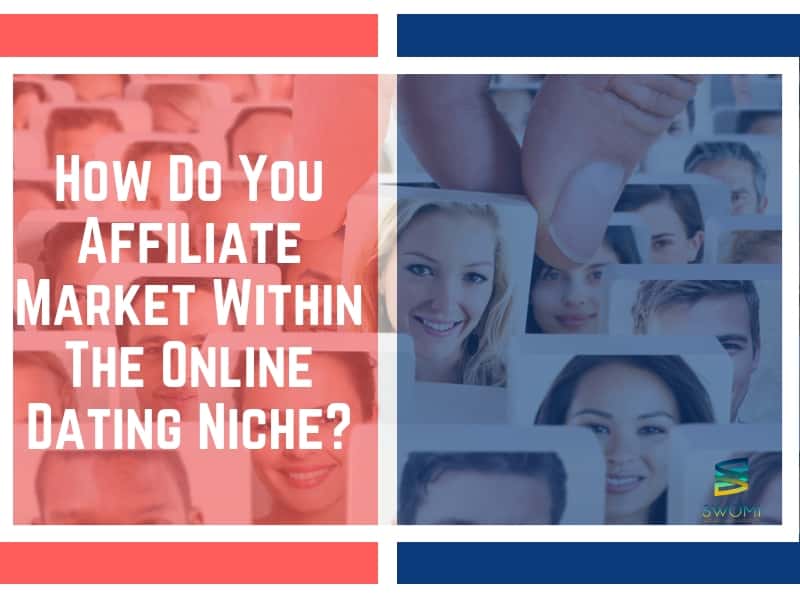 What To Do
Sound hyped up to dive head-first into the online dating niche, but don't know where to start? No worries, marketing follows the same basic guidelines as promoting within more mainstream niches.
The main goal is to become an authority within your niche. By becoming an authority, people will refer to you as the expert and keep coming back to you for trustworthy, valuable content. You build your traffic and conversions.
Marketing within your niche includes knowing the audience of your niche inside and out, what they want, their dreams, and desires. For this, you can research and analyze your competitors and thought leaders for ideas on what questions your audience wants answered.
After fully understanding your target audience, next comes creating content. Now that you know what problems your audience wants help with, brainstorming what content to create will be a much smoother process.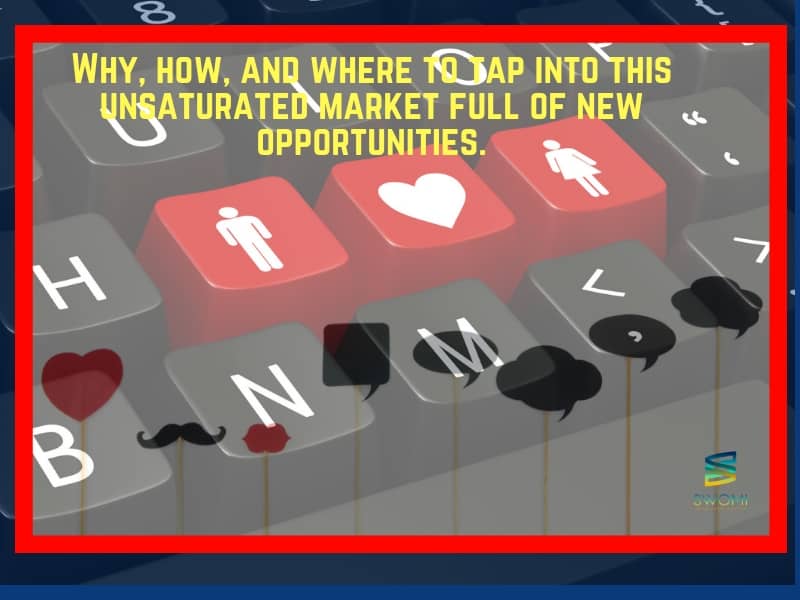 Other methods of creating content? Content curation. Curating quality content from other bloggers and industry experts builds your credibility as an expert. By curating content, you go from being a spammy self-promoter to a credible curator. It also has the other added benefit of easing the work load for you. Creating high quality content takes a ton of time and effort.
Another method of generating more content is to showcase the user-generated content of your audience. Doing so shows the rest of your audience that you care about what they have to say. Featuring positive user-generated content builds a favorable reputation. Regarding your reputation, people statistically trust what third-parties say about what your brand as opposed to what a company says about itself.
Your content is the most valuable part of affiliate marketing. Your content will drive traffic and build the trust and loyalty of your audience. And once you've earned their trust, they will value your word.
As a result, they will place great value on the products/ services you recommend. Times have changed. You are no longer just an affiliate marketer. Your audience will look to you as a taste-maker, influencer, and trend setter.
What Not To Do
There are some common pitfalls to be aware of. The more you know, the more likely you can successfully overcome some common affiliate marketing challenges.
Like with all niches, the dating niche isn't for everyone (that's why it's called a niche, folks). It comes with its own unique challenges.
Dating can potentially be one of the more risqué niches. Social media platforms like Facebook have strict limitations for advertising and promoting dating content. Carefully navigating restrictions can make advertising time-consuming and complicated.
Majority of subscriptions to online dating sites are impulse buys. Armed with this information, it's up to you to use your creativity on how to best engage these impulse buyers. At the end of the day, thinking ahead and preparing new channels to promote on always put the odds closer in your favor.
Signs Of An Awesome Affiliate Program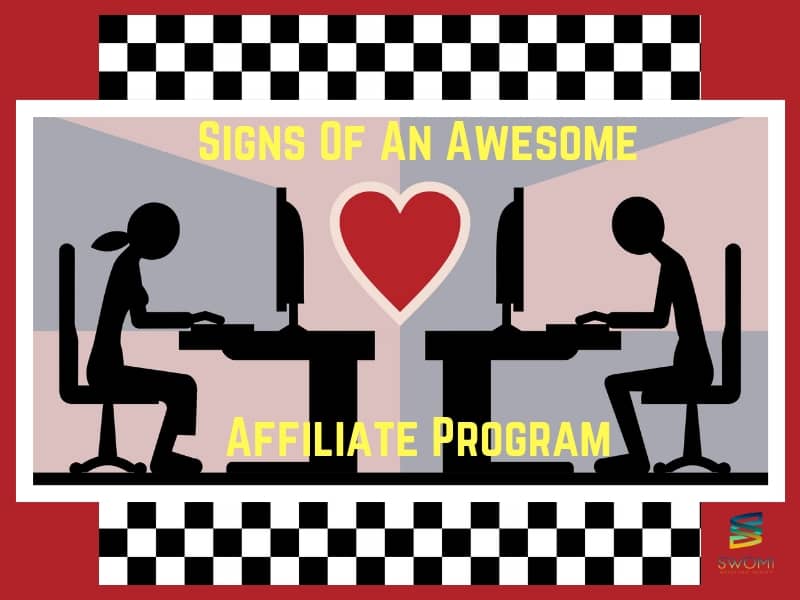 Now that you're looking forward to matchmaking your audience with great affiliate products, here's how you can find the perfect match with an affiliate program.
As we learned, quality content is the number one important factor to making any online business successful. A good affiliate program offers excellent content that people want to see and consume. The content offers something unique, is of high quality, and is constantly updated to stay ahead of competition.
Other factors to keep in mind when choosing an affiliate program:
a generous, easy to understand payment structure
access to a lot of promotions and incentives for conversions
advice and support, especially for first-time affiliates
recurring commissions
live chat support for members
rewards for reaching sales benchmarks (free trips, etc.)
Word Up:
Here's the end of our online dating affiliate marketing journey... for now. To recap, here are some main takeaways:
- The online dating niche is a valuable market because it has yet to be saturated with affiliates
- High quality content is the gateway to your success
- Look for affiliate programs that are supportive, pay consistently, and provides high value content
The internet is an amazing innovation that creates new opportunities never before thought possible. Who would think you could combine making money and promoting dating sites… all from your couch?
sources: topoffers, convinceandconvert, nichehacks, onemorecupof-coffee
This article is letter (N) of our "Discover Content" series where we write an article for each letter of the phrase. "Discover Content" uncovers how online content is discovered, circulated, and shared. Find links to more articles in the series below.
(D) Content Discovery – (D)iscover The Content Your Audience Craves
(I)nfluencers – The Authentic Path To Content Discovery
(S) Discover New, Valuable Content Just Through (S)haring
(C) Discovering (C)ontent In 2020 And Beyond
(O) Content (O)rganization - Get Your Sh** Together For 2020/2021
(V) Discover The (V)alue In Your Content
(E) All The Ways (E)ngagement Is The Gateway To A Better Brand
(R)esults You Can See With Content Curation
(C) Anyone Can (C)urate Content. Yes, We're Looking At You!
(O) Fantastic (O)pportunities And Where To Find Them
(N) O(N)line Dating – The Evergreen Affiliate Frontier
(T) The Marketing (T)rend is... Cause Marketing!
(E) A Guide To (E)ndorsements For The Everyday Marketer
(N) Set Goals, Not Resolutions, To Achieve The 2020 (N)ew You
(T) 5 Content Monetization Swomi (T)rends You Don't Want To Miss