Endorsements leverage the credibility of celebrities, influencers, and everyday people.
This article is letter (E) of our "Discover Content" series where we write an article for each letter of the phrase. "Discover Content" uncovers how online content is discovered, circulated, and shared. Find links to more articles in the series below.
The stars… we idolize them and want to relate to them at the same time.
So what better way to market your business than with a healthy celebrity endorsement?
Don't think you're limited because you have no way of reaching out to A-lister celebrities either. The internet has expanded the definition of a "celebrity."
Influencers, online personalities that attract a loyal following, are just as persuasive (if not more) than traditional Hollywood actors.
Also thanks to the internet, an everyday person's voice can be amplified. Which makes their Word Of Mouth referrals an organic type of endorsement.
So let's get to know these endorsers, see what they're all about, and how they can help you while you help them.
What Is An Endorsement?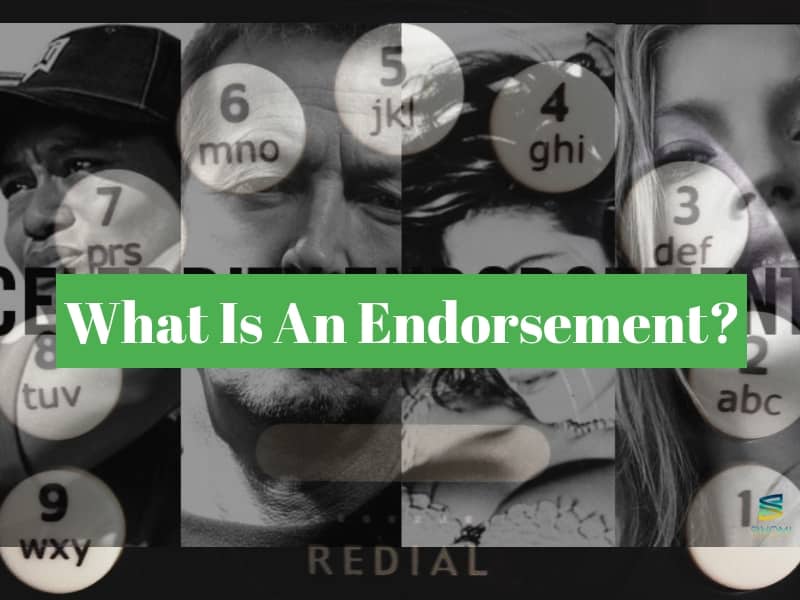 Endorsements are about as old as marketing itself. Does this sound familiar? A charismatic celebrity or a sports superstar gives two thumbs-up for a product/ service in an advertisement.
In the advertisement, the influencer gives the product, service, or cause their approval, support, and reassure the audience they even use it themselves.
And either subliminally or directly, the person becomes compelled to buy the endorsed product.
Endorsements are really as simple as partnering with an influential figure and running a campaign where the influencer supports your product.
What Are The Benefits?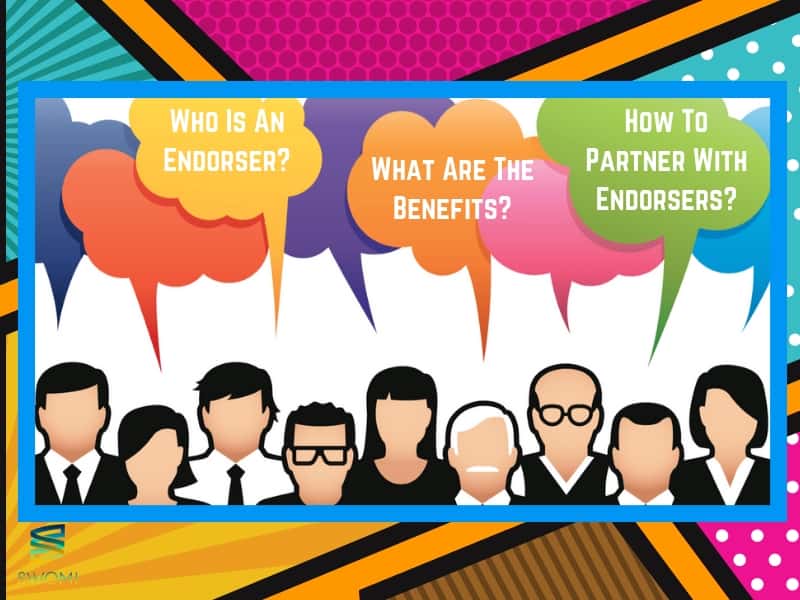 Using celebrity endorsements has a ton of benefits. Of course with all businesses, the main goal is to increase sales by forming quality, lifetime relationships with customers.
In a way, influencer endorsements function similarly to word of mouth referrals. Your target audience already has positive feelings and trust with your influencer partner of choice. Because they trust that influencer, the audience is more likely to try their recommendation.
Especially online, influencers are seen less as unreachable, idolized figures and more as a friend or community member.
Increased sales. According to a study by Marketwatch, just one endorsement can immediately jump your sales by 4%.
Campaign Magnification. While there is no direct correlation between celebrity endorsements and customer loyalty, one study concludes "endorsements are a powerful and useful tool that magnifies the effect of a campaign.
Inspire customer confidence. After signing an endorsement deal, there is an immediate increase in brand value and legitimacy. Companies can see their stocks rise up to .25 as soon as the news of a partnership is made public. Normal consumers see an average of 3,000 advertisements and a celebrity's star power can grab an audience's attention faster than normal ads.
Who Is An Endorser?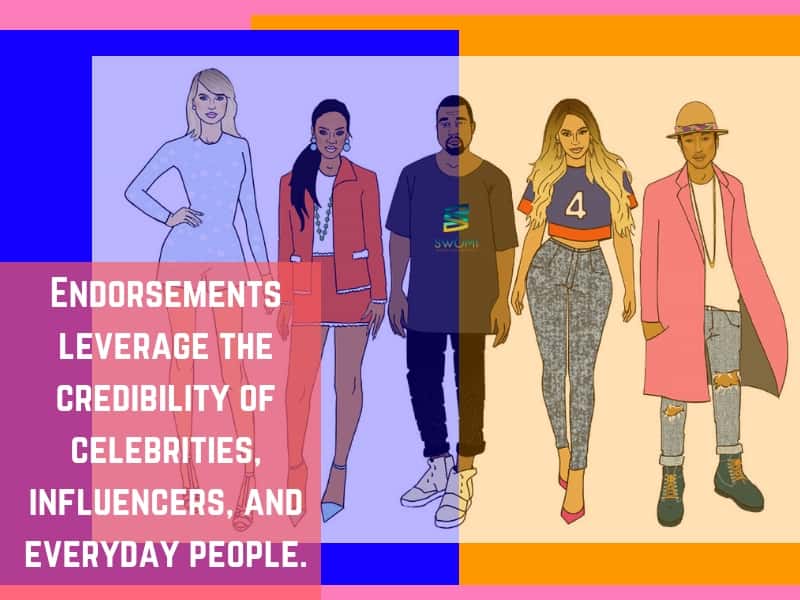 Up until now, we've described endorsers as influencers or celebrities interchangeably. But there is in fact a difference between celebrities, influencers, and word of mouth referrals.
Celebrity Endorsement
With celebrity endorsements, you attach the fame of a celebrity to a brand or product.
In this category lies famous actors, sport stars, and influential figures of any type. They don't necessarily need to be world famous. Maybe your celebrity is a huge star in your niche, but outside your niche they are virtually unknown.
Celebrities are merely the messengers and face for a brand. They don't take an active part in creation part of the process.
Their ads are meant to be seen and heard, but not interacted with. The celebrity stays on their pedestal, thank you very much.
Influencer Endorsement
The biggest difference between celebrities and influencers are their campaigns. Celebrities act more as a face to the brand. Influencers are deeply involved in their community and content creation.
Influencers, in contrast to celebrities, are specialists. They focus on one specific niche and build a community related to that unique field. For example, there are mommy bloggers, video game streamers, youtube makeup artists… you probably know more than a few.
When you partner with an influencer, they are head creator of content creation, how the message is relayed, and usually given a lot of flexibility when adding their creative spin. With influencer marketing, the influencer is perceived as the sole creator of the entire message. This lends an influencer's word a level of authenticity and credibility.
There is a constant and ongoing dialogue between the influencer and their community. When an influencer posts sponsored content, that recommendation naturally meshes with the community's ongoing dialogue.
Word of Mouth Endorsement
Word of Mouth endorsements come from everyday people using the internet. Think of word of mouth referrals as micro-influencers. Micro-influencers have an even smaller audience than Influencers. But smaller does not mean lesser. Everyone today can be a micro-influencer online just by virtue of sharing their opinions on social media.
Credibility Of An Endorser
Despite their differences, the most effective endorsers display the qualities of expertise, trustworthiness, and attractiveness.
1. Expertise. Do you want recommendations for motor oil from Martha Stewart? The most successful endorsements pair the endorser with their expertise.
2. Trustworthiness. Endorsers with a checkered past or unsavory reputations are not the best spokespersons. Try to stick with someone who has a positive, public reputation.
3. Attractiveness. Not just physical attractiveness (of course, that never hurts), this extends to respect for their achievements and character.
How To Partner With Endorsers?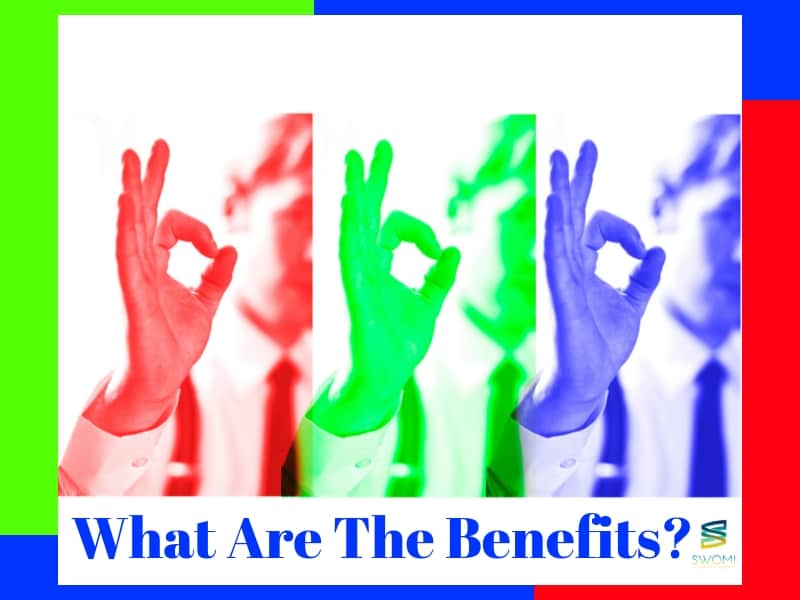 So now that you've seen a general overview of what endorsements are all about, you may now be wondering, "How do I even get started?" Well, here are just a few tips.
First things first, define your objectives for your partnership. When you do find the right endorser, create common goals together.
Match the right endorser with the right product. Also, understand your celebrity or influencer's values and motivations if they align with your company's "Why." Rather than trust everything at face value, do your own thorough research on their past. The last thing you want is the skeletons in their closet tarnishing your brand.
It may be tempting to ride the popularity of the hottest "it" person of the moment, but the long term solution always wins.
Word Up:
Endorsements are nothing new, just the innovative platform of the internet has breathed new life into endorsements' potential.
Some of that great potential comes in the form of increased sales, magnified campaigns, and inspiring customer confidence.
Not only that, the internet widened the defintion of an endorser. An endorser no longer needs to be a celebrity. Endorsers can also be online influencers and everyday people.
An endorser's credibility can go far given they exemplify expertise, trustworthiness, and attractiveness. On top of that, by finding an endorser that shares the same values and motivations as your company you can maintain true authenticity to your "Why."
sources: marketing-schools, forbes convinceandconvert, cambridge dictionary
This article is letter (E) of our "Discover Content" series where we write an article for each letter of the phrase. "Discover Content" uncovers how online content is discovered, circulated, and shared. Find links to more articles in the series below.
(D) Content Discovery – (D)iscover The Content Your Audience Craves
(I)nfluencers – The Authentic Path To Content Discovery
(S) Discover New, Valuable Content Just Through (S)haring
(C) Discovering (C)ontent In 2020 And Beyond
(O) Content (O)rganization - Get Your Sh** Together For 2020/2021
(V) Discover The (V)alue In Your Content
(E) All The Ways (E)ngagement Is The Gateway To A Better Brand
(R)esults You Can See With Content Curation
(C) Anyone Can (C)urate Content. Yes, We're Looking At You!
(O) Fantastic (O)pportunities And Where To Find Them
(N) O(N)line Dating – The Evergreen Affiliate Frontier
(T) The Marketing (T)rend is... Cause Marketing!
(E) A Guide To (E)ndorsements For The Everyday Marketer
(N) Set Goals, Not Resolutions, To Achieve The 2020 (N)ew You
(T) 5 Content Monetization Swomi (T)rends You Don't Want To Miss